By now most anyone who reads this has noticed the appearance of Christmas music on the radio of AT LEAST one of their local radio stations. I look forward to this season every year and am one of those weird ones who listen to Christmas music throughout the year. In all honesty, I was tweeting our local stations back in September about when they would start playing it.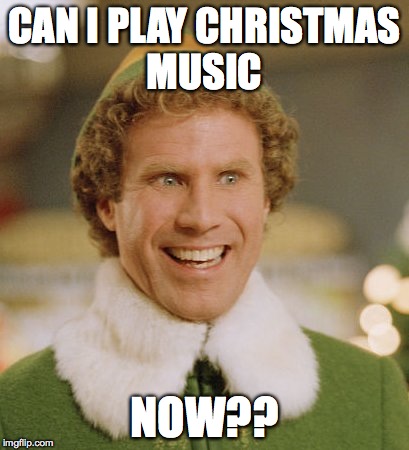 However, I am having a real beef with Christmas music this year. It's not the Christmas music itself or the stations that play it but the playlists for their Christmas programming. Perhaps this is a direct complaint to the owners and program directors of the 3 stations in my area of Michigan playing our holiday favorites  (one of which is IHeart Media).  Don't get me wrong I love hearing the old time favorites I grew up with from the likes of Dean Martin, Nat King Cole, Berl Ives, Elvis and even the new ones from the likes of Maria Carey, Michael Buble, and Mannheim Steamroller. Who doesn't love trying to sing along to Josh Grobins version of "O Holy Night" while we are driving and how can you not like Pentatonix?
Let's update those lists a little people.
Some stations do a little better job than others and I like listening to Iheart Radio online to stations from other cities and states and seeing if their lineups are just a little more….interesting. I think my dream job (outside of my current awesome one of being a writer and novelist) would be to be in charge of the Christmas music playlists. Spending my year listening to Christmas Music and making the perfect playlist the holiday season would be epic.
In the span of an 8-hour shift at work today I heard White Christmas by Bing Crosby 14 times on one radio station…FOURTEEN! That's ONE version of ONE song almost 2 times an hour and I probably missed some.  According to Music Machinery, way back in 2014 on Spotify, there were  "914,047 Christmas tracks. Of those 914,047 tracks represent 180,660 unique songs and were created by 63,711 unique artists – from Aaron Neville to Zuma the King (Click here to see a specific list). Just a quick search on Amazon.com returned 9,600 different Christmas/Holiday themed albums from the likes of Rod Stewart and Hanson to Hawaain Style Christmas and Christmas Queens. I don't have Itunes but I am sure there is even more Christmas Music on there.
This year there are 11 more Christmas Albums coming out from people like Gwen Stefani and Lindsey Sterling (Check here to check them out on PopSugar) among others. The country music genre is FAMOUS for it's Christmas music and the industry pumps the Christmas albums out almost as fast as Garth Brooks puts out a new box set. So, why can't some of these non-country radio stations mix in some different country tunes besides the same old Faith Hill song? I'd even take a Willie Nelson Christmas song. Hell, our local country stations like B93 don't even bother with Christmas music until a few days before Christmas and last year you were lucky to hear two Christmas songs an hour even until Christmas Eve. Maybe throw in song old soul Christmas song from Otis Redding or something more urban from Run DMC?
It's not like there is a short supply of Christmas Music either as you can see so why am I hearing the same songs and the same versions 20+ times a day. It's not 1970 and there is more music available faster and easier than ever before. So come on radio people lets freshen up those Christmas playlists and mix in some new and fresh things.
Here is a pretty awesome list from Rolling Stone and their take on the 25 greatest Christmas Albums of All Time.